The Lagos State Governor, Mr. Babajide Sanwo-Olu has appointed Dr. Emmanuella Olutoyin Zamba as the Acting General Manager of the Lagos State Health Management Agency (LASHMA)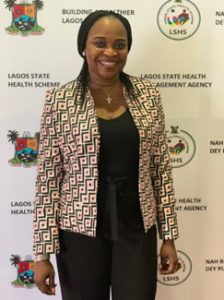 Dr Zamba is a Medical Doctor, a seasoned technocrat, and a public health specialist with a bias for health systems strengthening. She resumed at her new role as the Acting General Manager of LASHMA in March 2020.
Since joining the Lagos State Public Service in 2005, she has served in various leadership capacities. Prior to her recent appointment, she was the Director, Healthcare Planning, Research and Statistics, in the Lagos State Ministry of Health.
Other positions she has held include Head of Strategic Health Planning, Team Lead for the Resilient and Sustainable Systems for Health (RSSH) Programme supported by the Global Fund, State Health Sector Investment Officer, Coordinator Health Sector Quality Control Programme, Service Delivery Director and Coordinator for the Service Charter Cascade Initiative, State Human Resource for Health Desk Officer, amongst others.
Dr Zamba is a polyglot and speaks fluent English, Yoruba, German and conversational French.
"The time for changing the narrative with respect to universal health coverage in Lagos State is NOW. LASHMA prioritizes it's agility and appetite for Innovation as tools for making a difference."

Dr Emmanuella O. Zamba
Acting General Manager
Lagos State Health Management Agency (LASHMA)